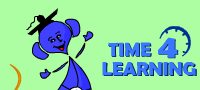 This was our first week using Time4Learning. There is a lot there! They make it easy though to figure out what lesson your child needs to be doing next. In fact, the child can sit down and very easily get started without any assistance. Once a child is logged in, he simply chooses a subject and then there will be an arrow pointing in front of the category he needs to click on. On the next page, there is another arrow pointing to the lesson he needs to be working on.
Each lesson is kept at a fairly short length. There is immediate feedback given and in the Language Arts Word Herd Quizzes, they give points for correct answers. My son loves this! He's very competitive so this is right up his alley. However, if you are not around to see how your child did taking the quiz, you can go to his portfolio and view a report of all the work he has completed. It can be viewed by day, week, or month. Regular lessons are not scored but they will still be listed there and show the date and time they were worked on and whether they were completed or not. I found these reports really nice to look over and they can even be printed if you need them for a portfolio.
There are many different ways your child can answer questions on this site. Sometimes there are a list of questions to click on. Other times there may be a drop down menu to choose from. And often in math, he will have to work the mouse a little more and drag and drop items or numbers onto a specific place on the page. This keeps a child actively involved in the lesson and not just sitting there. There is also a really nice Tool Kit that provides an online manipulative to use for just about any math a child might be doing.
So far my son is really enjoying the site. He likes the Language Arts best, which really surprises me because he hates to read. He even asked me to do extra lessons the other day after I told him his time was up. Which brings me to another nice feature. There is a timer up in the right corner of the screen. Its default setting is 15 minutes but you can go in and adjust that time in the parental controls. When the times gets to zero, your child can stop and go to the playground to play some games. Some of these are educational too. My son really liked doing a geography game about the 50 states. And don't worry if your child is in the middle of a lesson when the timer gets to zero, it will automatically remember where he was and he will be given the option to pick up in the same spot he left off or start over.
I'll let you know next week how things are going and anything new we discover about
Time4Learning.com
.
Heidi Miller-Ford