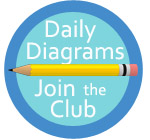 When I was a teacher in the public school system, I always taught my students how to diagram. No other teachers did this. My students loved it and really understood the parts of a sentence and the different parts of speech. I learned to diagram in school and it seems like it has become a lost art. Ten years later, my son is now at the age where he is ready to learn this and I wanted to find a program that was homeschool friendly. The website
English Grammar Revolution
is awesome! You will find a wealth of information on grammar for free, as well as wonderful materials you can purchase. There's a
video course
your child can take and learn how to diagram if you have no idea where to begin.
The newest addition to the site, and my favorite, is a subscription called
Daily Diagrams
. It is a paid service but worth it. You receive an email each week which includes a PDF file with everything you need to teach one specific area in diagramming. There are also five sentences the student will diagram. One for every day of the week and an answer key is provided as well. This literally takes five minutes to do but is a great way to introduce or reinforce grammar. This subscription comes in two levels: Get Smart for the student just starting to diagram and Stay Smart for the child who needs to reinforce the grammar skills already learned.
If you have not heard of this site, you need to check it out. I am glad I found it. Perhaps you will be inspired to teach your children to diagram as well.