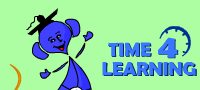 I am just starting to review this product and wanted to give you some information about it as I go along. Time4Learning is an online educational program for math and language arts. Science and social studies are included as a bonus. This is for pre-K through 8th grade. The registration process is quite easy even if you have multiple children. After filling in the information for one child, including a few simple questions to help with grade level placement, the system automatically takes you back to the beginning to enter information for the next child. Once you have completed the registration process, you will receive an email letting you know your account(s) have been set up. There are many helpful links within that email to get you started. There is a "Getting started guide", "Helpful hints", a direct link to the "Parent login" page, as well as other helpful information about how to change things in your account or contact customer support. They even have a forum you can join to chat with other parents.
From what I can tell so far from looking around at different things on the site, it seems pretty user friendly and easy to navigate. It's kid friendly with big buttons that are easy to find. My 8 year old son sat down and within seconds knew exactly what arrow to click on to start the lesson. I have also contacted their customer support several times with questions and was pleased to get a quick response each time. I am still trying to assess whether my son is at the appropriate age level or not in some of the subjects. If I decide I want him moved up or down, a simple email to them can have it adjusted.
As we get more involved in the actual lessons, I will let you know what we have experienced with this program. Check back each week for an update. In the mean time, if you want to go to their site and check it out for yourself, go to
http://www.time4learning.com/
. Feel free to leave some comments here or ask me questions about it.
Heidi Miller-Ford