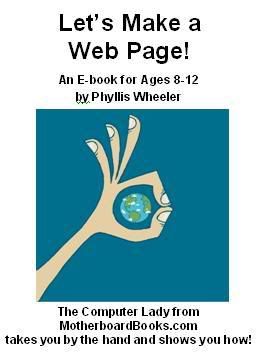 This was a fun project to work on! I love the computer and could sit and work on it all day! However, there are still a lot of things I don't know how to do. Children on the other hand seem to naturally take to anything that deals with technology and the computer is no exception.
Let's Make a Web Page!
eBook was created to help your 8-12 year old child learn how to create a web page of his own. All I can say is that Phyllis really knows what she's doing and how to present it in a very easy format to follow. Older children will have no problem following this book to create a web page on their own. Younger children will need some assistance form their parents but will still learn a lot.
There is an introduction for the parents that explains how to download a trial version of a program that is needed to complete the web page. Each lesson is well written and contains actual pictures of the program you will be using. This is so nice for the visual learner! She also addresses safety issues on the internet and gives several ways to search safely. There was a free way to do this that I was not even aware of! There are also safe sites given to go and look for images.
Here is a list of some of the things your child will learn to do throughout the tutorial:
Learn to recognize a site (when searching for graphics) that is just advertisements and will lead him to others sites that require email addresses or purchases
How to build a web page
How an html program is used to create the page

How to identify files ending with a certain extension that could contain viruses and the appropriate ones for images
How to add graphics, sounds, and link to a page
How to create his own background

Once the page is created, your child will learn how to post it but it will only be visible to those who are using your computer. It is not actually put on the internet. There is additional information given at the end of the book to help you upload it to the internet if this is what you want.
From the moment you open this eBook, any fear you have of not being able to teach your child how to create a web page is gone. I was very impressed with this eBook and really enjoyed it. My son and I sat down and created a web page in 2 days time. He learned a lot and was proud of his page when we were done. If this is something your child is interested in doing or you would like to teach your child, I would highly recommend trying this book!
To find out more about it or to purchase it, please go to
motherboardbooks.com
. The price is usually $29.95 but right now the introductory price is $19.99. Get it while you can at this price.
There are several other products available by Motherboard Books also:
Logo Adventures
Computer Science Pure and Simple I, II
Web Site ABC's
Heidi Miller-Ford