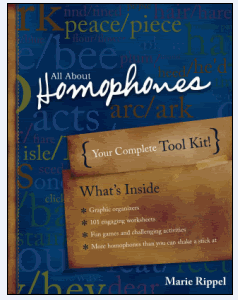 I had a chance to review another product by the author of
All About Spelling
. It's called
All About Homophones
. This book is a nice way to cover a topic that is often easily forgotten.
There are a lot of different ways homophones are covered in the book, from worksheets, crossword puzzles, card games to tongue twisters. Homophones are are one of those things that kids just seem to enjoy trying to find. This books makes it even more fun!
My son took an instant liking to the activities in this book. He's not a worksheet kind of kid, but he enjoyed doing these. On his own, he even started mentioning homophones he'd find to me. There is a sheet included in the book for you to list homophones. So that is what we started to do. We've got a nice list going.
The card games are very professionally done. The only downfall is all the printing and ink you will need to use. But I think the benefit of the games far outweigh the ink and paper you will use. Also, if you are considering the
ebook
, it is 240 pages long. Don't let this turn you away from the
ebook
format because of its size. You will only need to print the pages for the grade level you are working on. There's not a lot of other on screen reading you will need to do.
If you are looking for an easy way to incorporate homophones into your curriculum, this is the way to do it.
This book is available in two formats and covers grades 1-8. :
Softcover format: $29.95
Ebook
format: $27.95
BUT to celebrate the new book,
they are giving you $10 off!
Just enter the coupon code "FUN" in the customer code box during
checkout. The coupon code is good for one week, now through
Monday, February 2, 2009.
For more information on this product,
click here
.
Heidi Miller-Ford