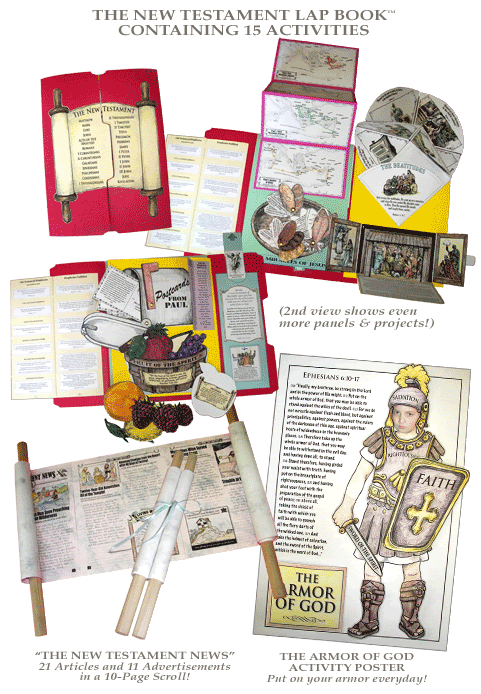 Homeschool in the Woods
has some great products and their
New Testament Lap Book
is no exception! In case you don't know, a lap book is made up of a number of small activities which are completed individually and then put together into several file folders that have been connected together to make a book that opens on your child's lap.
First of all, I'd like to mention that we are not lap book fans at my house so I was not real sure how this would go over. This lap book was different from others we have tried. The first thing that impressed me was the quality of the graphics in this product. Wow! Very nice! And, if you have ever bought anything from Homeschool in the Woods, then you know how wonderfully organized their files are when you open them, whether in ebook or on cd. I reviewed this product in ebook format. It's very easy to find your way around and print out exactly what you need for a certain lesson. There are several files and each of them are labeled so you know exactly where to go. Their directions are always clear and easy to follow. There is even a Printable Photo Gallery for you to see finished products. All you need to add to this are some markers or colored pencils, glue or tape, some brads, paper (colored if you want), cardstock, and a few other easy to find supplies.
Each activity was so different from the last and kept my son's attention. I find that many lap books require a lot of writing and this one was not overwhelming. In addition, there are alternative suggestions to replace writing in some instances.
There are 15 different activities in this lap book. They cover:
* The Lineage from David to Jesus

* The Birth of Jesus Christ
* Miracles of Jesus
* The Beatitudes
* Fruit of the Spirit
* The Parables of Jesus
* The Last Supper
* The Crucifixion

* The Resurrection
* The Ascension
* Pentecost
* Prophesies Fulfilled
* The Twelve Disciples
* Paul's Missionary Journeys
* Postcards from Paul
I thought the Armor of God model was really neat and because it was hands-on, it made it even more memorable! There is also a bonus activity where students pretend to be a reporter during the New Testament times and interview different characters and create a newspaper in a scroll format. This activity alone is filled with tons of different ways for your child to creatively show what he has learned about the New Testament. For children who like to write, this is where they will shine! When this lap book is done, it will make a very impressive addition to any child's portfolio. This lap book can be used by itself, in addition to a Bible curriculum you have, or as a starting point for further research on specific topics in the New Testament. My son enjoyed doing this and learned a lot along the way. It was a very enjoyable product to use!
Homeschool in the Woods has two other lap book products you might be interested in. There is one for the Old Testament and one called Artists. All of them are $18.95 for a downloadable version and $19.95 on CD. They also have wonderful timeline products and Time Traveler History Studies. To find out more about any of these items,
CLICK HERE
.
Heidi Miller-Ford