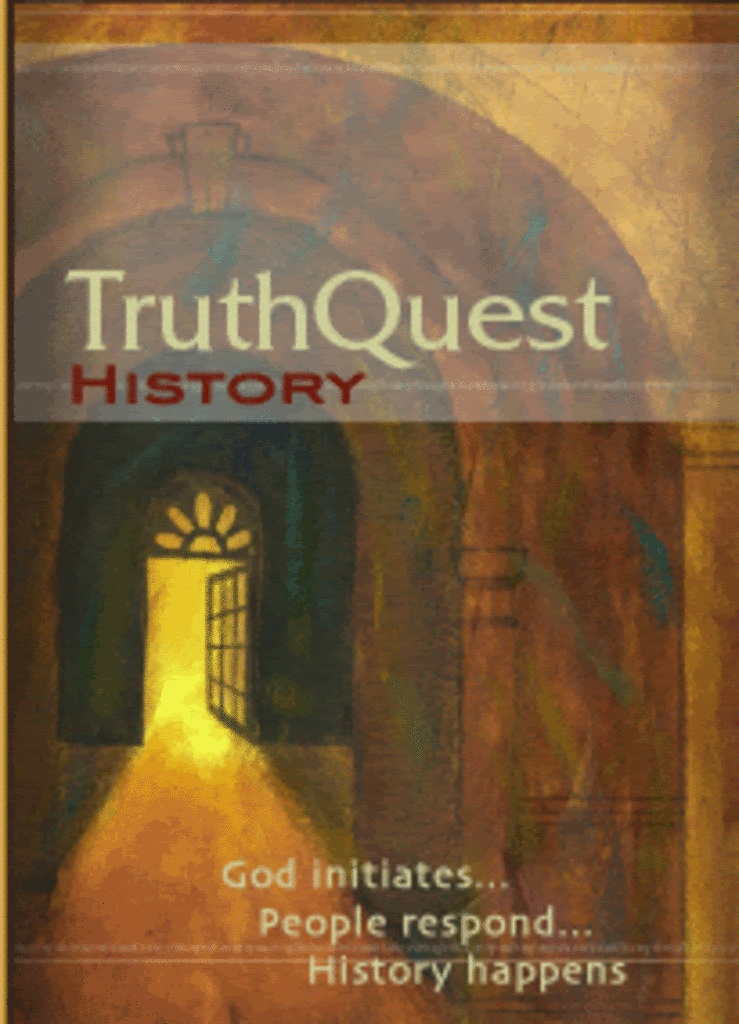 TruthQuest History
has thrown out the secular theory of teaching history. Even with reading good books the author says, "All that good reading will still be mere humanistic fluff unless your kids have first been 'primed' to look for the deep spiritual issues at work in the lives of all those people and events they're reading about." TruthQuest teaches history from a Biblical and spiritual point of view and shows why events happened in relation to God. This perspective is exactly what excited me about this review. I haven't used a history curriculum like it. This new point of view will definitely help your children see how history has been shaped from people who did and didn't make God an important part of their lives. It is extremely important for our children to learn that whoever is in charge of their lives (themselves or God) can influence their decisions in many different ways. Truths are discovered very slowly. By the end of the guide, it all comes together.
I reviewed
American History for Young Students II (1800-1865)
. This is for grades 1-5. There is a wonderful introduction for the parent at the beginning of each new section. It gives a deeper explanation of what's being studied. However, it is written in such an easy to understand manner that upper elementary children could easily be assigned to read this independently. It could also be read aloud to younger children and they would understand it. Three ThinkWrite exercises are provided to help students think and internalize concepts. Answers are given in the back of the book, which can be used to lead discussions.
One of the things I think I loved most about this guide is its flexibility. You can choose to snuggle up on the couch with your children and read some good books or assign them to be read independently and discuss them later. There are some suggestions made for activities that can be done or you can choose to do none of them and simply read the literature. If you are someone who likes to have a lot of hands-on activities suggested, you may feel the need to supplement with a book specifically including activities. This guide would easily compliment other materials.
A list of books is given for each section. There are suggested grade levels provided for each book. I found this very helpful and am glad the author included them. If after looking through this extensive list of books, you still can't find an available one at your library, you can use any book you find on that particular subject. This curriculum is not dependent on a specific book. This is a huge plus if you have a library like mine that often doesn't carry books listed in guides. Many of the books on the list have a description given underneath to help you make an informed decision about which book may be right for your child. Some of the books included pertain to arts/crafts and or activities, which may provide some hands-on activities to use. There is a complete alphabetical listing of all the books included in an appendix in the back.
This guide is meant to be simply that- a guide. You can take it and make it fit your family. Whether you are teaching one child or several with a Charlotte Mason, classical, or eclectic approach, this will work for you. You can go as in depth as you want in a certain area and incorporate activities along the way, or simply enjoy some family time reading great literature. Either way, your children will be learning important truths along the way! This approach to history is exactly what I have been looking for. I wish I would have found it sooner!
Here is a list of the guides they sell:
Level 1 (best for grades 1-5) - American History
Vol. I ~ Exploration - 1800
Vol. II ~ 1800-1865
Vol. III ~ 1865-2000
Level 2 (designed for grades 5-12)
American Egypt/Ancient Greece
Ancient Rome
Middle Ages
Renaissance Reformation Exploration
Age of Revolution I
Age of Revolution II
Age of Revolution III
To find out more about this company and these guides, please
CLICK HERE
.
The guide I reviewed sells for $24.95, with the rest of them ranging anywhere from $24.95- 34.95. How long each guide will take depends on how slowly or quickly you decide to go through it and the age of your children.
www.TruthQuestHistory.com
info@TruthQuestHistory.com
HIStoryQuesters-subscribe@YahooGroups.com (an online discussion group)
Heidi Miller-Ford