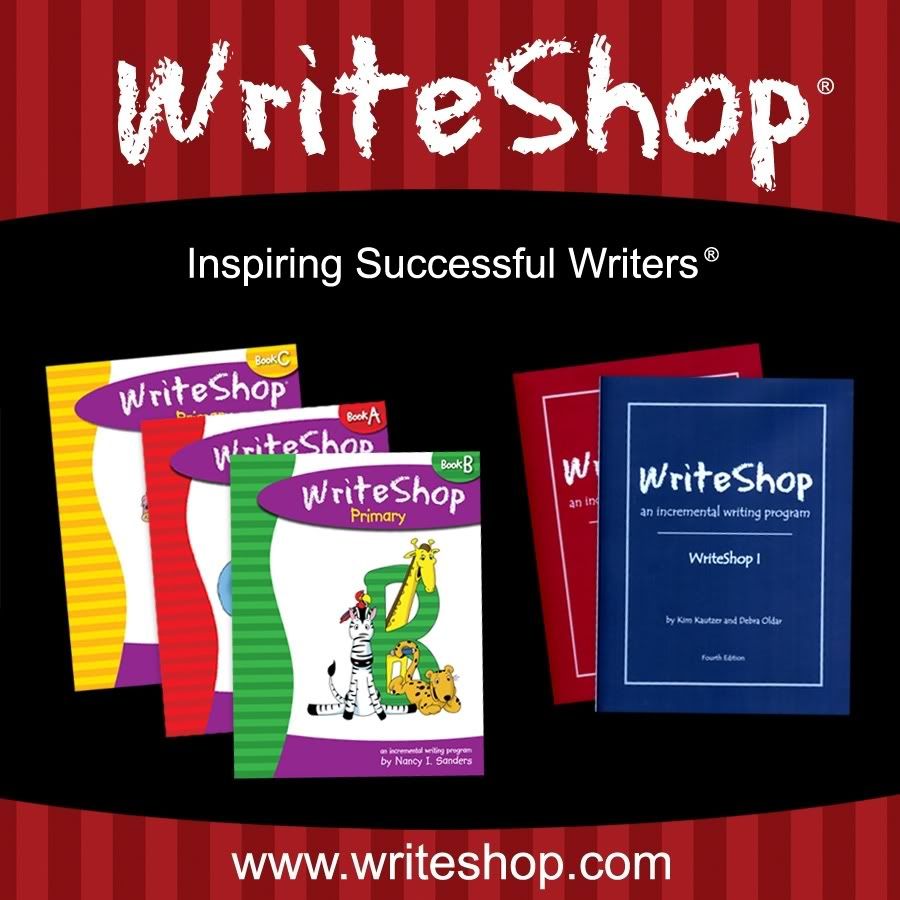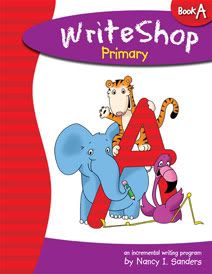 If you have read my previous reviews, you know that I reviewed WriteShop's Story Builder cards. This time, I was given the opportunity to review their
Primary Book A
writing program. This is geared towards K-2 graders and is designed for parents to work along with their children. Students can work at their own level.
There are several schedules at the beginning of the book to help you with planning. One is a yearly schedule according to the grade your child is in. It will let you know how long it will take your child to complete the entire series (Books A, B, and C). The second is a weekly plan, which includes a one, two, or three week option. The third schedule explains how to teach children at different levels.
It is suggested to create a writing center or special place in your home where the child can go to write. This may be as small as a space at your kitchen table or as big as a separate area in your home. Then all you need to do is add the items from the material list (several of these items are things you probably already have) and it is ready to go. There are several suggestions made as to how to do this. I especially liked the portable word banks!
Each lesson focuses on a new skill and is taught around a specific theme. There is a list of themes for your child to pick from. This list has some great suggestions on it. There is sure to be something your child will be interested in. There is also a list of objectives to aim towards, materials needed, and any advanced preparation involved.
Activity Sets are a consistent part of each lesson, which will have Guided Writing Practice and one or more other exercises (except Lesson 1).
Here is the focus of each Activity Set:
Set 1: Guided Writing Practice-This gently encourages your child to expand his responses into complete thoughts.
Set 2: Pre-Writing Activities
Set 3: Brainstorming
Set 4: The Writing Project
Set 5: Editing and Revising
Set 6: Activity Set Worksheets- This worksheet set must be purchased separately and will be needed throughout the book.
Set 7: Publishing the Project- This is where your child's work will be turned into a book or other art form. There are wonderful hands-on activities, which is a great way to make this more multi-sensory for tactile learners.
Set 8: Evaluating Your Child's Work- Great way for you to see progress throughout the program and if you child is meeting the objectives,
Here is a list of what your child will learn in each lesson:
Lesson 1: Welcome to WriteShop Primary
Lesson 2: All About Me
Lesson 3: Choosing a Topic
Lesson 4: The Main Idea
Lesson 5: Story Structure
Lesson 6: Punctuation
Lesson 7: Writing with Rhyme
Lesson 8: Organizing Ideas
Lesson 9: Writing from Personal Experience
Lesson 10: Sequence of Events
This is a nice gentle approach to helping your child develop good writing skills at an early age. This is something that will be very valuable as they get older. A solid foundation is started, which you can continue to build on in the rest of the series.
WriteShop offers programs all the way through high school.
Prices for WriteShop Primary Book A
$26.95- print
$24.95- eBook
Worksheet Set
$4.95- print
$4.50 eBook
CLICK HERE
to find out more about this program and other products they offer.
www.writeshop.com
Heidi Miller-Ford