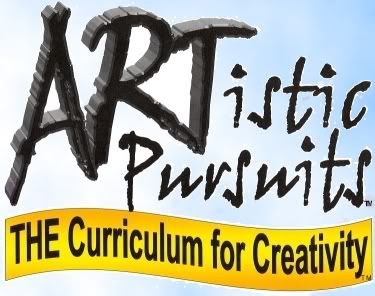 I am NOT artistic! I have said this before in another review. In fact, I don't even like teaching it. It is a subject I have to force myself to do and I really don't teach it as often as I should.
Artistic Pursuits
makes this job easier. There are several books for different age levels available. I reviewed
Grades 4-6, Book One,

The Elements of Art and Composition
.
This book is laid out very well. It is very teacher and/or student friendly. It starts with the very basics of how to sit and the type of surface needed when drawing. There are very few materials required for this curriculum because it is not arts and crafts, but rather learning to draw using different techniques. There is a list of materials on the table of contents page and it is divided into the units. This makes it really easy to quickly see what materials are needed, how long they will be used, and what units they go with.
The lessons are short, which I appreciate. It's hard to fit art into our week and when I do, I don't want it to take over our day. This book can be used independently by the student if you wanted because it is written in such an easy manner to understand. If you have a child that does not read well independently, you could read to him and then let him do the lesson by himself afterwards.
There are 16 units in this book with each of them being five pages long. Those pages are split into four different lessons that repeat in each unit throughout the book.
Page 1 will build visual vocabulary helping the student to make connections in the real world.
Pages 2-3 will cover American art appreciation and history.
Page 4 will teach the technique the student will be working on in that unit.
Page 5 is a final project to bring together everything the child has learned.
Here is a list of what is covered in this book:
The Elements of Art
Space
Line and Shape
Texture
Value
Form
Form using Value
Local Value
Contrast
The Shapes of Natural Forms
Edges
Composition
Balance
Rhythm
Overlap
Depth
Proportion, the Face
Movement
When your child is done with this book, he will have really learned to draw a great picture in many different ways which will expand his creativity. There are students' samples included in the book to inspire the child. One of my favorite features is the American art appreciation. These works of art are in full color. I have used art curriculum in the past that contained works of art in black and white and I really don't like that. If I am going to teach my child about a specific work of art, I want it to look as close to the original as possible and that needs to be in color. I appreciate the fact that author, Brenda Ellis, went the extra mile and had these printed in color! Next to these pictures is the name of the author, the name of the work of art, and the date is was created. The other parts of the book are in black and white with a few things in color, such as titles and certain parts of the text, to make them stand out.
At the end of the book there is an evaluation sheet to help you obtain a number and/or letter grade for your child's work. There is a chart that guides you through choosing the correct amount of points for your child's level of understanding of concepts and assignments completed.
This was a really nice art curriculum that would easily fit into anyone's schedule and for any level of ability. The price of this book is $42.95. That is the only thing about this book that I would have a problem with. I know that it could be used for a full year if done twice a week, but it still seems a little pricey to me. Homeschool families are usually on a budget and have a certain amount of money allotted for each subject, and unfortunately, art probably isn't one they would spend this much money on. Especially since there are other materials that have to be bought to go along with it. This particular book didn't require as much but some of the other books by Artistic Pursuits do. If you have several children who could use this book at once or over several years, then it may be more economical for you. That is something to take into consideration.
There are also books for
Preschool
,
K-3
, and
Junior
and
Senior High
. All books are $42.95 each.
To learn more about Artistic Pursuits,
CLICK HERE
.
Heidi Miller-Ford